ducttape: A Crash Course
2012-01-12
This is a tutorial for ducttape, a workflow management tool by Jonathan Clark. Parts are based on his original tutorial. It was created with the Mou editor; Markdown and Graphviz dot sources are on GitHub.
Cat pictures are from the Internet.
Is ducttape right for you?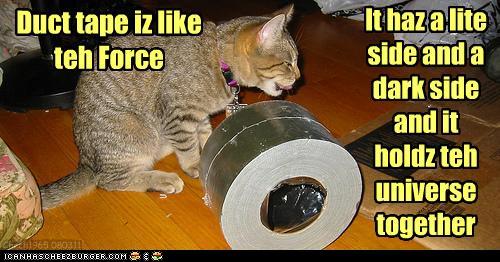 Do you suffer from Bash Bookkeeping Beleaguerment? Symptoms include:
wading through a jungle of scripts that perform similar or related tasks
assigning insanely long filenames with all sorts of parameters in them1
having to add experimental parameters or steps that render previous scripts & data obsolete
losing time to silent failures of intermediate steps
sleuthing to determine the precise configurations required to replicate a result
dreading having to share code with others because that would require explaining how to run it
In a nutshell, ducttape cures these by formalizing each project as a series of modular steps, or tasks, organized in a workflow describing inter-task dependencies.
Tasks run when they are ready (all dependencies are satisfied). If multiple tasks are ready at once they can be run in parallel.
Each task specifies prerequisites, outputs, and a bash script body. Missing prerequisites, missing outputs, and failed bash commands cause a task to fail. The next time ducttape is invoked it will try again.
Each task has its own output directory. The inputs and outputs use local variables, eliminating the need for long filenames or arbitrarily numbered arguments.
Tasks can be submitted as jobs to a scheduler, with defined runtime requirements.
Variants on a workflow (e.g., for tuning parameters or running the same processing on multiple datasets) can be specified with branch points. These variants can be run side-by-side.
New branches or branch points can be introduced at any time.
The branch is specified in the directory hierarchy, so outputs are organized under the relevant branch.
With version control integration, each experimental result remembers which version of the code produced it.
Open source and written in Scala, ducttape is free and runs on any machine with a Java VM.
Side effects may include unexpected free time, increased productivity, and spontaneous happy dances.
Contents
3. Submitters [TODO. wait until syntax stabilizes?]
4. Versioning & Packages [TODO]
5. Grab Bag [draft]
6. Advanced Example [TODO]

a preprocessing pipeline that can be run with different starting/ending points, in a scheduler?

Maybe: a section on modifying workflows after they've been run, including use of invalidate and mark_valid. What kinds of changes can ducttape cope with? Which changes would screw things up?

OK: adding new tasks that are not ancestors of current tasks; adding new branches after existing ones; adding new branch points where the first branch reflects current behavior; adding/modifying/removing plans
Bad: renaming a task—it is treated as an entirely new task; removing branch points/branches that have been executed; changing whether an existing task is associated with an existing branch point
OK with invalidate: change the body of a task; change the inputs, outputs, or parameters of a task

if a realization is invalidated, are all realizations that depend on it invalidated as well?

??: changing values for a task variable, with or without a branch point; inserting a task between two existing tasks in the dependency graph
modifying a workflow while it is running
Sections 1 and 2 present the core concepts and features of ducttape. Read these first after installing ducttape on your system. The remaining sections can be consulted independently; they are in no particular order.